Business / Consumer Goods and Services
Valk Amsterdam for professional meetings
On August 12, 2019 by
Are you looking for a meeting space in Amsterdam? Then it is wise to have a checklist at hand. By ticking or unchecking you can be sure that you are making the right choice. Is the meeting room suitable for large and/or small meetings? Does it have a good internet connection? Is there a possibility for catering? And is the meeting room easily accessible for the guests? These include important questions that you should keep in mind when looking for a space for your meeting.
Nowadays, audio-visual facilities are one of the most important factors in a meeting. Without professional presentation tools such as beamers, LCD screens, wireless presentation systems and a good sound system, you will not get the most out of your meeting.
Valk Amsterdam strives, together with you, to remove as many points as possible from your checklist. This is done on a tailor-made basis, but also by means of existing meeting arrangements. This includes matters such as catering, audio-visual facilities and other matters. The hotel has 11 rooms in which different room configurations are possible, for large and small groups. Van der Valk Hotel Amsterdam-Amstel is located between Amsterdam-Zuid and Amsterdam-Zuid Oost and is easy to reach by car. In addition, the hotel is located next to metro station Overamstel, making it easy to reach for guests who come by public transport.
Due to the increasing importance of audio-visual facilities during meetings, this is something that Van der Valk Hotel Amsterdam-Amstel takes very seriously. You can use a beamer with a projection screen or an LCD screen, a sound system, high speed Wi-Fi is available and the rooms have a ClickShare wireless presentation system.
Are you curious about the possibility of renting a meeting room in Valk Amsterdam? Check out the website for more information. If you have a specific question you can always contact the professional sales team of the hotel. You can do this by calling 020-8001100 or send an e-mail.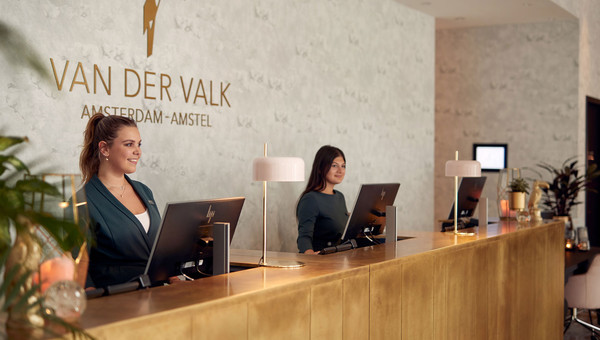 https://www.vandervalkamsterdam.com/